Under the leadership of Prime Minister Narendra Modi, many MPs on Tuesday walked from the old building to the new Parliament building. After some time, the proceedings of the Lok Sabha started in the new building of the Parliament. Let us tell you that the new Parliament building of India was inaugurated on 27th May and the new Parliament building was designed by Bimal Patel.
If you are not familiar with the name of Bimal Patel, then let us tell you that he is an architect who has designed the new Parliament House. The name of Bimal Patel, who hails from Gujarat, is also associated with the Kashi Vishwanath Corridor and the first of its kind Sabarmati Riverfront project.
Bimal Hasmukh Patel has more than three decades of architectural experience. Patel is the president of CEPT University in Ahmedabad. He is also the head of HCP Design Planning and Management Pvt. Ltd. HCP Design Planning and Management Private Limited was founded by his father Hasmukh C Patel in 1960.
Bimal Patel studied from St. Xavier's High School, Ahmedabad. After completing his schooling, he went to the School of Architecture, Center for Environmental Planning and Technology, CEPT. In 1995, he reached UC Berkeley, America, to pursue his PhD. Bimal Patel has been honored with many prestigious awards including Padmashree in 2019.
If reports are to be believed, Bimal Patel's company has been paid Rs 229.75 crore for consultancy services for the ambitious project including the new Parliament.
The artworks displayed on the walls and corridors of the new Parliament House seem to tell the stories of India's democratic traditions from the Vedic period to today. The new Parliament House is completely digital. The rooms of Lok Sabha and Rajya Sabha are equipped with state-of-the-art audio-visual systems.
Talking about the new Parliament House, it has three gates… Knowledge, Power and Karma Gate… Separate gates have been prepared for MPs and VVIPs. Public entrances lead to three galleries. Music gallery, architectural gallery and craft gallery… these three will serve to showcase the diversity of India.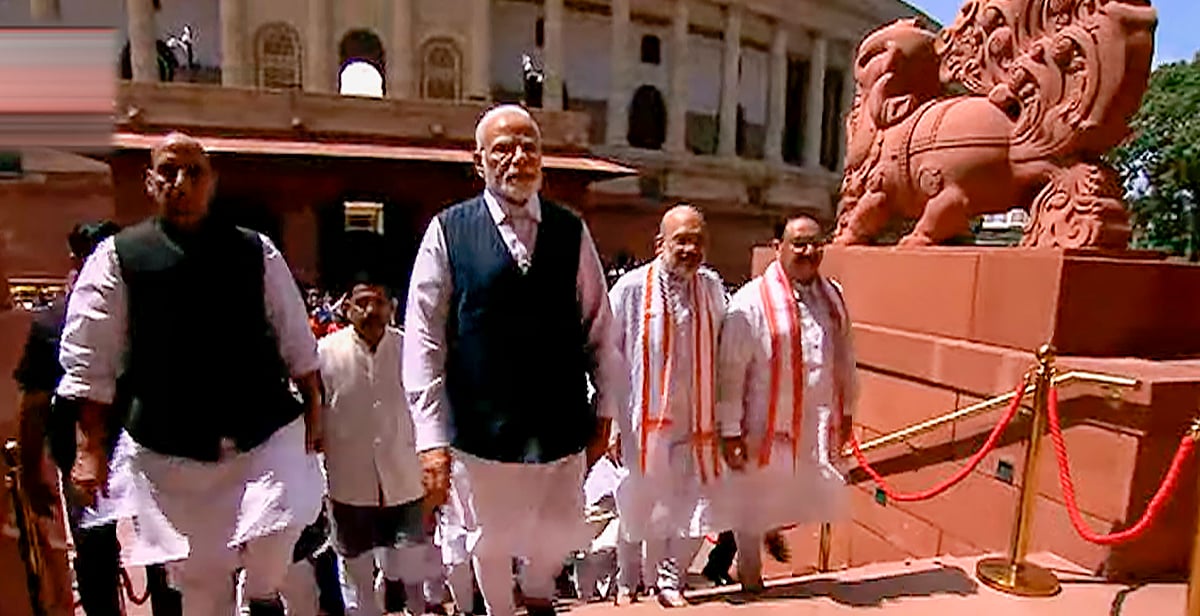 The special thing about the new Parliament House is that the Lok Sabha chamber is depicted with the national bird peacock and the Rajya Sabha chamber is depicted with the national flower 'Lotus'. The steel structure for the 'false ceiling' in the Lok Sabha and Rajya Sabha chambers has been procured from the Union Territory of Daman and Diu.
The new Parliament House has three formal galleries, where huge bronze statues of Mahatma Gandhi, Chanakya, Gargi, Sardar Vallabhbhai Patel, BR Ambedkar and the chariot wheel of Konark Sun Temple are displayed.