Madhya Pradesh Governor Lalji Tandon (85) died at 5.30 am on Tuesday. Lalji was admitted to Medanta Hospital in Lucknow on 11 June due to difficulty in breathing and fever. He was put on a critical care ventilator on Monday evening when his health deteriorated again. In between, there have been reports of improvement in their condition. But he died early in the morning of Tuesday. Information about the death of Lalji Tandon was tweeted by his son Ashutosh Tandon.
Lalji Tandon will have his last darshan at Kothi No 9 Triloknath Road, Hazratganj and his residence 64, Sondhi Tola, Chowk, Lucknow from 10 am to 12 noon today. His last journey will leave for Gulala Ghat, Chowk at 4 pm.
Live updates-
– Bihar Chief Minister Nitish Kumar has expressed grief over the death of Lalji Tandon, the Governor of Madhya Pradesh and former Governor of Bihar. The Chief Minister has said that Lalji Tandon was a popular politician, skilled administrator and eminent educationist. His death has caused irreparable damage in politics, social and educational fields.
– Madhya Pradesh Chief Minister Shivraj Singh Chauhan tweeted – The departure of revered Tandon ji is my personal loss. I always got Pitrulya affection from him. Whenever there was difficulty, I used to guide them. Their deficiency can no longer be bridged.
Uttar Pradesh Governor Anandiben Patel has expressed deep grief over the demise of Lalji Tandon. Governor Anandiben Patel has said in her condolence message that Lalji Tandon was a gentle, soft-spoken and land-connected person. He had long experience of politics.
– President of India Ramnath Kovind wrote on Twitter in condolences- In the demise of Madhya Pradesh Governor Lal G. Tandon, we have lost a veteran leader who added a combination of Lucknow's cultural sophistication and a national deadlock. I deeply mourn his death. My condolences to his family and friends.
– Prime Minister Narendra Modi wrote two tweets on the demise of Lalji Tandon and wrote- Lalji Tandon will be remembered for his tireless efforts to serve the society. He played a key role in strengthening the BJP in Uttar Pradesh. He made his mark as an effective administrator, always giving importance to public welfare. I am saddened by his death.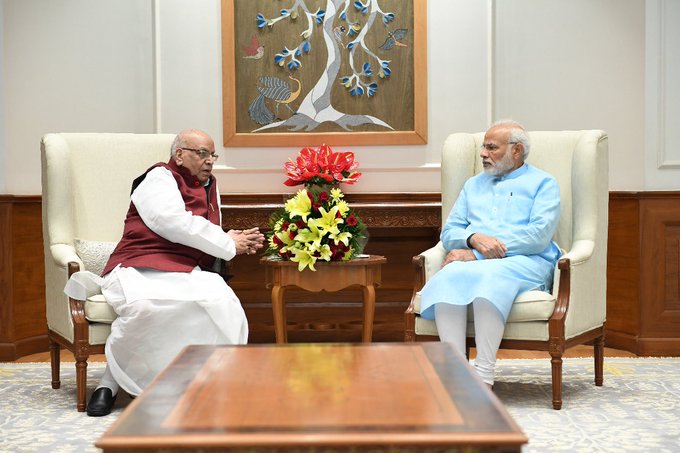 – Uttar Pradesh Chief Minister Yogi Adityanath has written condolences that the country has lost a popular populist, a qualified administrator and a vigorous society servant with his death. He was the soul of Lucknow.
the death of Lalji Tandon was the Uttar Pradesh government declared state mourning for three days.
– Dr. Rakesh Kapoor, director of Medanta Hospital, said that Madhya Pradesh Governor Lalji Tandon has passed away at 5:35 am today. Along with his kidney, liver function was also disturbed.
Lalji Tandon's political journey started from 1960
, born on 12 April 1935 in Lucknow, Lalji Tandon got married in 1958. He has studied till graduation. His son Golji Tandon is currently a minister in the Yogi government of UP. The political journey was started in 1960 by MP Governor Lalji Tandon. Tandon was elected two Bara councilor and twice a member of the Legislative Council. He also took part in the JP movement against Indira Gandhi's government. Lalji Tandon is also known for many important experiments in UP politics. He is also believed to have contributed significantly in forming a coalition government of BJP and BSP in the state in the 90s.