Brazil is the second most affected country in the world, after America, from Corona. There are over two million cases of corona virus infection in Brazil and so far 76,688 thousand people have died.
Since March, cases of corona virus infection in Brazil have been steadily increasing.
As of Thursday, 2,012,151 cases have been confirmed in the country according to data from the Brazilian Ministry of Health.
Tests in Brazil are also not being conducted on that scale, and on this basis, experts say that the number of cases of infection and the number of people who die from infection can be much higher than the current number.
See in pictures how Corona virus has destroyed this country of South America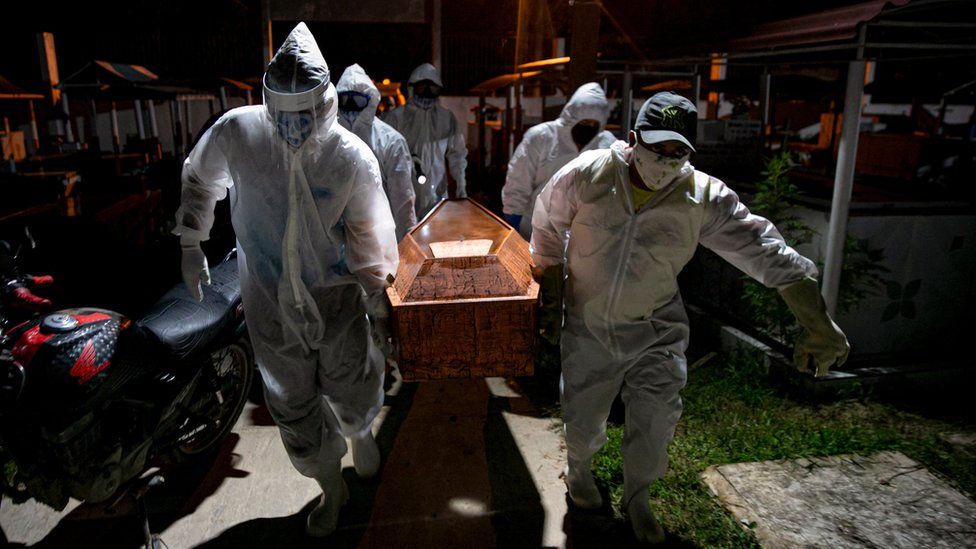 Corona virus infection in Brazil took slightly longer to reach than many countries. That is, the cases of infection started appearing here for some time.
The Amazon region in Brazil was most affected by the first wave of Corona virus. The most cases of corona virus infection occurred here.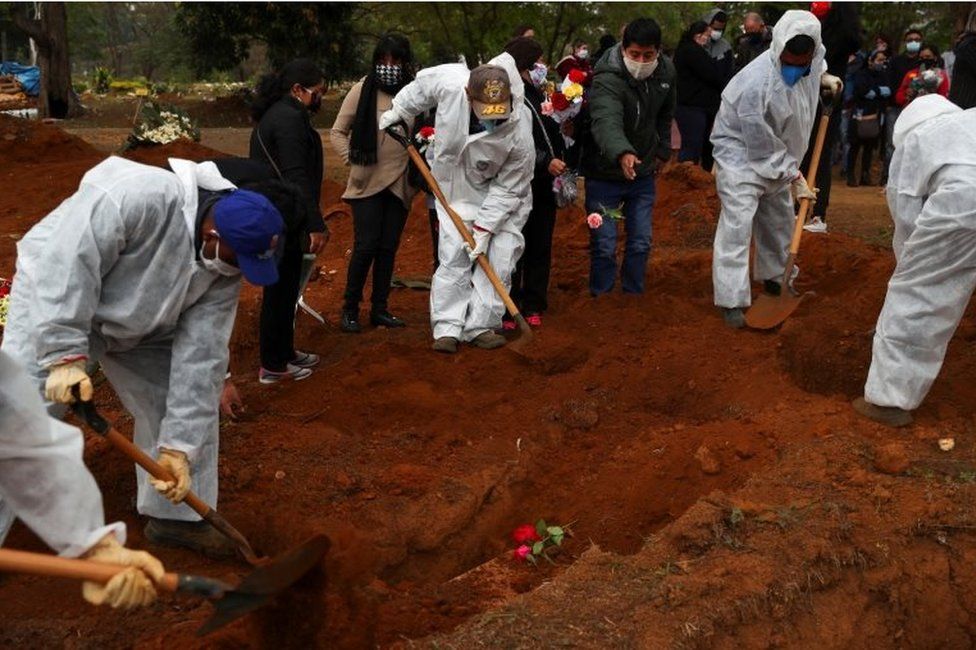 Officials have warned that there may be a shortage of coffins in this area. They have to make arrangements for big cemeteries because the death toll is increasing steadily. Controlling the virus in the Amazon rainforests is becoming more challenging because the area is also struggling with hunger and poverty.
Tribal and tribal species are most affected by this virus and they have a large population in the capital Manus.
The homes of these people are far away from the main city and health centers and in such a situation they are not able to get health services easily.
Vanderlesia Ortega dos Santos, who lives on the outskirts of the city, is a nurse and she is getting ready to help these people. She herself comes from the same community and around 700 families are in this area for whom she is the only help.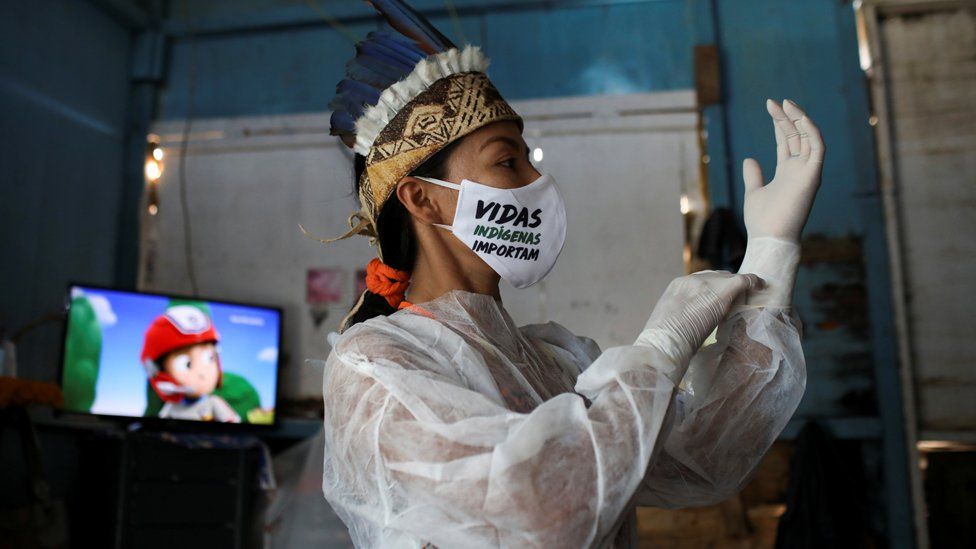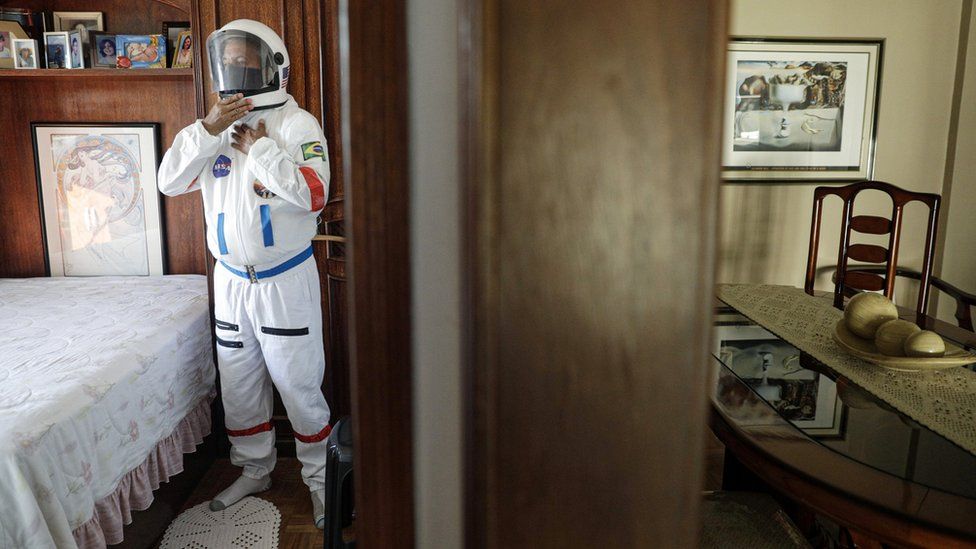 In Brazil, it has become very common for people in rural and remote areas to be seen with coffins from here and there. Something similar was seen in the northern state of Mercury. Later the coffin was buried in a cemetery which is at the mouth of the Amazon River.
But it has not been many days since the virus infection spread in many major cities of Brazil. The outbreak of the virus in Rio de Janeiro and Sao Palo spread only a few weeks ago. But after this, the cases of infection have not stopped but are increasing very fast.
In May, the mayor of São Paulo warned that health services were not enough and if cases of infection increase, it could collapse. He also demanded for the hospital and the beds.
This hospital is designed inside a sports gym. But on the one hand, where cases of infection were continuously increasing, there was neither lockdown in the country nor now.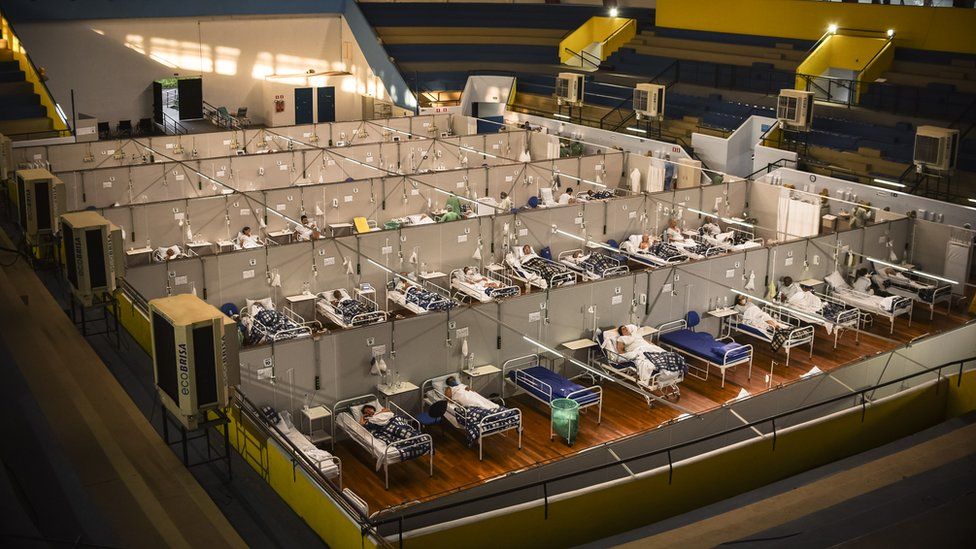 States and cities made their own rules and followed them, but later there were protests in many places and the government faced a lot of criticism when the figures started coming up.
Brazil's President Zaire Bolsonaro later issued an order for people to stay indoors and also imposed some restrictions in view of increasing cases. Bolsonaro, however, never supported the lockdown. He also participated in the Anti-Lockdown Protest to be held in Brasilia. This picture is of his supporters.
Bolsonaro has consistently called the Corona virus a simple flu and his reaction to the virus has been constantly criticized.
He claimed that if the entire lockdown is imposed, it will cause a lot of damage to the economy and this loss will be more than the loss of the virus. He also criticized the media and said that the media is spreading fear.
Bolsonaro was also seen meeting people several times during this period, but on any occasion, he neither wore masks nor took precaution.
However, Bolsonaro Corona is currently positive and his second test has also come positive. Bolsonaro, however, claimed in March that he had no fear of this simple flu and would have nothing.
While people are worried about the economy, health officials say that taking corona virus lightly can be dangerous. In Brazil, a health officer was removed from his post amid estrangement and a health officer himself resigned from the post.
This photo shows how Bolsonaro met US Ambassador Todd Chapman during the Corona epidemic. This is a picture of the day, after a day or two, symptoms of infection started appearing in them.
On June 20, Brazil became the second-most-infected country in June, with the number of infections also crossing one million. Experts say that cases may increase further due to lack of tests.
But the lockdown in Brazil was lifted despite increasing cases. In Rio and São Paulo, the restaurant, bar was reopened, while cases of infection in the country do not appear to be decreasing from anywhere.
It is expected that the vaccine will come in the coming few months or by the end of this year. The interview vaccine test of two pharmaceutical companies, AstraZeneca and Synovac, has raised hopes that the vaccine is ready for the final phase and may be tested on Volantier in the future.
This expectation is extremely important for Brazil. These pictures show how devastating the Corona virus has caused in Brazil.
Thousands of graves are seen and the land on the other side is being prepared for future concerns.