Chhattisgarh Govt Jobs 2020: Chhattisgarh Health Department will recruit 5549 posts, government orders issued
Chhattisgarh Govt Jobs 2020: Raipur. The State Government has taken a big decision in the wake of expansion of health facilities in Chhattisgarh during the period of Corona virus infection. The recruitment of 5549 vacancies in the health staff has got the green flag of the Finance Department. Out of these, it has been decided to recruit contractual posts on 100 and 3449 posts. With this decision of the government, a large number of unemployed youth in Chhattisgarh will get an opportunity to serve in the Health Department. In this regard, State Health Minister TS Singhdev gave information on Twitter. With this, he wrote – Together with all the young comrades, we will continue the war against Corona even further.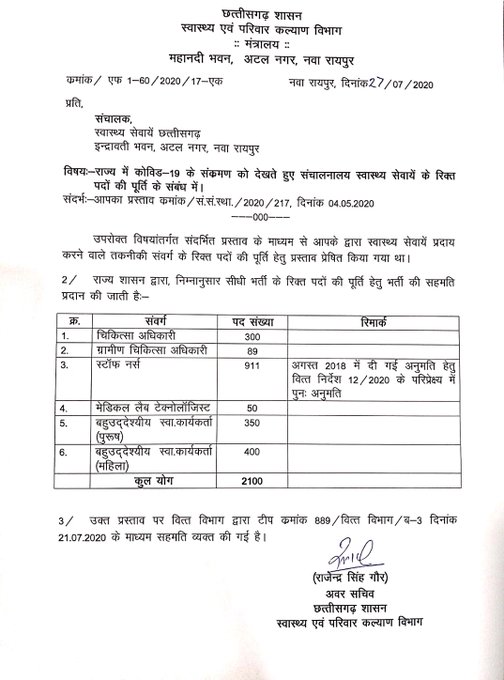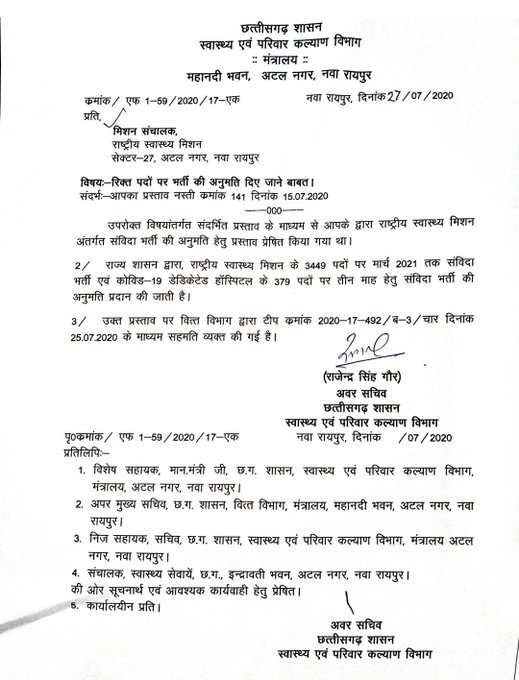 In Chhattisgarh, amid the rapid spread of corona infection, the state is facing challenges in treatment due to lack of health staff. With this challenge, the state government has taken this decision to fully strengthen the health staff. According to the notification issued by the state government, contract recruitment for 3449 posts of National Health Mission has been allowed by the state government till March 2021 and for three months contract recruitment for 379 posts of various Kovid-19 dedicated hospitals established in the state. is. Apart from this, the posts to be filled by direct recruitment include 300 posts of medical officer, 89 posts of rural medical officer, 911 posts of staff nurse, 350 posts of multipurpose health worker male and 400 posts of multipurpose health worker female. . The recruitment process for these posts will start soon.
The new recruits will help patients in hospitals to be properly looked after, as well as help prevent the spread of corona virus infection. Complaints of lack of staff facilities are being reported from various Kovid hospitals in the state. Apart from this, the posts which are going to be recruited have been sanctioned in the past, that is, there is definitely a need of so many employees to run the health infrastructure in the state basically. Please tell that till date 7863 people have become victims of Corona virus infection in the state. Of these, 5172 patients have returned to their homes from the hospital, while 2646 patients are currently undergoing treatment at various Kovid hospitals in the state.